Right..it's time to start thinking about the C word again!! CHRISTMAS!
There are some who love Christmas and some who dread it! and it's not hard to see why.
I personally love Christmas, and always have! But as I have grown older I have stumbled across those understandable reasons some people are right Grinches!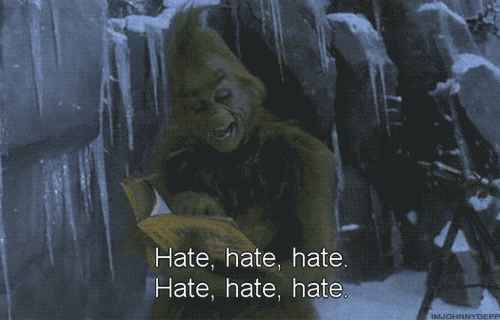 But by following my simple guide to a stress free Christmas, you too can feel that excitement you had as a child again. My guide keeps it simple and reminds you what Christmas is really all about!
---
Step 1:
Planning around Family-
We all know (especially those with huge families on both sides) how hard it can be to see everyone over the festive season and how hard it is to not upset those you don't see on The Big Day (Christmas Day)!
So in my house we see it as a Christmas Week!
Each day is just as important as the others! We have several Christmas days over this week to accommodate all of our different families, and each year we rotate which day we see everyone on.
By rotating what day we see each family each year, we are therefore stopping the upset of who is "more important" (i.e being seen on Christmas Day/Boxing Day etc.).
It is amazing how much stress can be avoided with this solution. Just make sure you communicate this system with your families so they can understand and appreciate your efforts to keep everyone happy, and plan as early as possible so there is no confusion.
A simple but effective solution, tried and tested by my family.

---
Step 2:
Presents-
Presents and gift giving is always high on peoples lists of stress over the Christmas period!
How many? How much money should I spend? What do they want? Should I get presents for EVERYONE!?
There is a lot of questions we ask ourselves about this subject in the run up to Christmas, and in my opinion Christmas has become way too focused on Presents! I love buying and opening gifts just as much as the next person, but I do not think it needs to be stressful and expensive.
Here are some simple ideas to help you this year and in future years to come…

Secret Santa!
Last year my family decided that instead of buying each person a gift, we would simply draw names out of a (Santa) hat and you would only have to buy one gift (we actually did stockings full of cheap presents) and set a budget of £10 (this budget was decided as a family, so feel free to adapt it to you own). This eliminates the panic of how much money you need to spend on gifts and helps you plan your Christmas budget in advance.
This year we have scrapped gift giving all together!
Drastic i know, but my family is made up of mid/late 20s human beings that are all saving for grow up things!
Instead of presents we have said to bring some food and drink to add to our feast and some weird and wonderful games to keep us jolly! This has actually made me so much more excited for Christmas as, (most people know) food is my favourite part of Christmas (and life).
The first two ideas may be tough for families with younger kids, so here's one for you too!
First, set a budget. Decide what you can afford and stick with it.
Then i would suggest sticking to 3 gifts each:
1st. From Father Christmas. (you could do a little stocking of small cheaper items)
2nd. A small/Medium gift from you.
3rd. A larger gift from you.
Simple. The more they get, the more they will expect in future. Teach them young that gifts it just a small part of Christmas.
One year we also did only homemade gifts! This is great fun and cheap. We did things like, homemade chocolates, handmade personalised cushions, collages, etc. More ideas on my favourite site PINTEREST! This is also a good one for the kids! Make a day of it and get everyone stuck in.
Another great idea I have seen on Pinterest is a book advent calendar.. so each day of advent you unwrap a book and that is what you read to them that night. (there are other options too like puzzles, or tree decorations. Look on Pinterest, there are so many good ones!) Even a beer and wine one for mum and dad!

---
Step 3:
Decorations-
For me this is personally not a stressful subject but I can see why it might be for others. The trick is to not give a shit.
When do you put decorations up? How many decorations? What decorations? Real tree or fake tree?
First things first.. IT IS YOUR HOUSE AND YOUR CHRISTMAS SO DO WHAT YOU WANT!
Forget about other people and if they judge you, well shame on them!
Each person and family are different. Some love lights, some love tinsel and some hate both! (i love both and lots of them obviously!)
When do you put decorations up? We always get the tree on December 1st and decorate the house then! but that is just us. It honestly doesn't matter when you decorate your house, as long as you are happy.
How many decorations? Well… same as above. UP TO YOU!
As most people know I love everything and anything to do with Christmas so you might assume I like a lot of decorations…. WELL YOU'D BE RIGHT! The more lights and tinsel the better!
What decorations? We have the same decorations each year and each year we add a few new ones! (usually more tinsel).
But if you don't have any decorations, and are worried it will cost you the moon, don't worry.
Pound stores always have lots of decorations nice and cheap.
Or for a more environmentally friendly approach, Charity shops usually have some decorations for sale.
Ask friends and family if they have any old decorations they don't want anymore!
Or my favourite way is DIY Christmas Decorations!! (Again Pinterest and Youtube are your best-friends here!)
I have made my own paper chains, snowflakes and tree decorations using old items around the house and from Charity shops! This is also great fun to do with the kids! Why not make a day of it. (side note: glitter makes everything look better).


Real or Fake Christmas Tree? We usually have a real Christmas tree! We love the smell and don't care too much about the mess they make! But this year I have decided to buy a real tree in a pot, so each year it will grow with us and we can reuse it. I just always feel so guilty about throwing them away after Christmas! Seems like such a waste.
Fake Christmas trees are much easier to handle and a lot cheaper! Our real Christmas trees cost us around £50-£60 each year!
It also depends on what situation you are in as to weather or not you buy a real one. It comes down to practicality and budget! and for those who don't like the look of a fake tree..well there are plenty of more expensive fake Christmas trees on the market that actually look quite convincing. By investing a bit of money in it this year will save you lots in the future and still keep your eyes happy.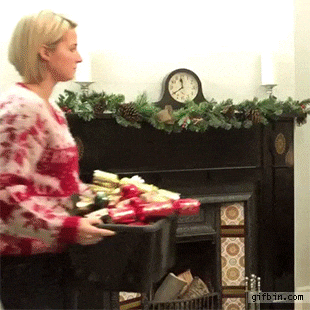 ---
Step 4:
Food-
Christmas dinner. Where do I start? This subject does make me stressed. I love food but this is a tough one to time right. I've been practising with just a standard roast…and i'm getting there but Christmas Dinner is so much more! (At least I still have one more year to prepare before we have a proper kitchen).
I am very lucky as for the past God knows how many years my amazing Auntie Annie has made us Christmas Dinner. We are currently living in a 70s bungalow and renovating it. The oven is so old and tiny that I honestly don't think a turkey would fit into it, let alone all of the trimmings too. But once the kitchen is done, we will be able to repay the favour and give her a few years off!
Our Family have all the trimmings, Turkey, stuffing, pigs in blankets (my fave), peas, sprouts (eww), gravy, roast potatoes, swede, red cabbage, etc. and even Vegan and Veggie options. She is a miracle worker.
But each family is different, like us you may not have much oven space so maybe you use a slow cooker, or one year we even used the BBQ.
There are many different ways of doing a Christmas Dinner, and also many ways to spread the stress and costs!
If you are having your family over, simply ask them to prepare one part of the meal each and bring it over. One person could do the swede, another could do the pigs in blankets and someone else could do the sprouts and peas. Each of these tasks are small on their own, so why not ease the stress from the main man/woman in charge and take one little dish off their hands. It will make all the difference.
Here are a few links to alternative and classic Christmas Dinner recipes:
Meaty:
Christmas Turkey Crown Recipe- Highly recommended, a nice and simple guide to roast turkey, this is the one I will be using on my first try! (i'll let you know how it goes!)
Easy Slow cooker Ham Recipe-  Reviews from people who have made this before say it's a delicious way to cook your ham, but don't use 30 cloves like the recipe says! It's way too overpowering!
Orange and Spice Wings-  An easy and cheaper alternative to cooking a whole bird is to cook these festive chicken wings! Good for smaller families and also easy to bulk cook for bigger ones! Buffet style!
Slow Cooker Red Wine Short Ribs- Who doesn't love a good slow cooker recipe! 10 minutes prep time and 10 hrs for the slow cooker to do it's thing! Sounds ideal for those days you just don't have the time! I'll let you know if 10 minutes is actually reasonable for the prep, as some recipes are way too enthusiastic to how fast we work!
Leftover Christmas Turkey Curry- This is a great one for Boxing Day or the days following! Don't throw away any leftover turkey, use it! Spread that cost of the turkey as far as you can!
Sides:
Rosemary Roasted New Potatoes- This is a recipe I do all the time, I use mixed herbs though, not rosemary. It is a much quicker and just as delicious way of doing roasties! No pealing (that's the part i hate the most!). For extra flavour why not add crushed cloves of garlic! Yummm!
Sweet and Spicy Roasted Sweet Potatoes- Another yummy side dish! Something a bit different and super straight forward.
Vegetarian:
Root-Vegetable Fritters with Green Lentils and Fig Chutney (Gluten-Free)- This one looks so delicious and festive! Vegetarian and gluten-free. There are a few recipes on this page so just scroll until you see this recipe name. You could even just use the Fig Chutney recipe to add as a side dish, or too another recipe you like!
Lentil and Cashew Nut Roast- One for the Veggies! This recipe has lots of good reviews and seems relatively simple. I will be testing this one out on my veggie friend Zoe! I'll let you know what she thinks! The perfect alternative to Roasted turkey for Vegetarians this Christmas!
Winter salad with Apple Vinaigrette- A lighter option or good as a side dish! I personally do not like blue cheese so will have to replace it with another option..i'll keep you posted as to what I use. Comment below, contact us or post on our Facebook page if you have any suggestions for me!
Vegan:
Vegan Butternut Squash Soup- A festive vegan soup recipe, great starter or even a nice soup to have on Boxing Day! I'm not a fan of parsnips but will still try this and get my dad to give his review! I think he'll love it!
Vegan Wild Rice, Cranberry, and Pine Nut Stuffing- This one looks so scrummy in the picture! Who says vegan has to be boring! This looks awesome! A nice vegan alternative to stuffing this Christmas!
Vegan Mushroom, Chestnut & Cranberry tart- here's one for the Vegans! This looks delicious, i can't wait to try it out on my vegan cousin! Vegan Christmas Tart!
Sweet:
Brown Sugar-Hazelnut Bars- I love anything sweet, so I cannot wait to try these! They would make the perfect treat around Christmas, or even a cute gift for loved ones!
Vegan Gluten-free peanut butter swirl brownies- Well this sounds amazing!  Yummy special treat for your vegan and gluten-free friends and family. Again this would make a very nice gift, just wrap them up in a cute box or paper bag! (I may have to gift these to someone if they are as good as they look!)
Ginger Sticky Toffee Pudding- Well… this one has my dad's name all over it! Looks like a great alternative to those who don't like Christmas Pudding!
Salted Caramel Chocolate Fondants- I just said the other day I want to make some Chocolate Fondants again! But I have never done a salted caramel version! Sounds delicious! A great pudding idea for Festive dinner parties.
---
Have an amazing Christmas everyone!